Cloud technology is here to stay, and the recent cloud adoption statistics prove it right. According to Gartner, the revenue from the public cloud sector is expected to grow from $175 billion in 2018 to $331 billion in 2020. Another report from Forbes states that a staggering 83% of the company workload will be stored on the cloud.
The pandemic has changed the way enterprises look at the cloud. Cloud services are taking the pandemic-induced business world by storm. The unprecedented disruption caused by the pandemic left enterprises with no other choice but to adopt cloud as it was the only possible way to support business continuity and mitigate uncertainties.
While enterprises are focusing on going cloud-first and getting the right cloud architecture, they need to primarily analyze if "moving to the cloud" will really save them money.
Is managing cloud spend still a challenge?
Before diving deep into the significance of cloud economics, let's look into some stats. As per a recent report by McKinsey, "around 80% of enterprises consider managing cloud spend a challenge." Also, "organizations waste an average of about 35% of their cloud spend," as stated by Flexera. These numbers reinstate that managing cost is still a pressing cloud adoption challenge for many small and big enterprises.
Why manage cloud costs?
An inability to manage/optimize cloud costs make it harder to quickly bring new applications/products and services to market. Moreover, a cloud adoption strategy is incomplete without effective cloud cost management and optimization. Hence, it is crucial for enterprises to pick a suitable cloud cost management provider to gain greater visibility, control over multiple cloud accounts, and finally to achieve governance.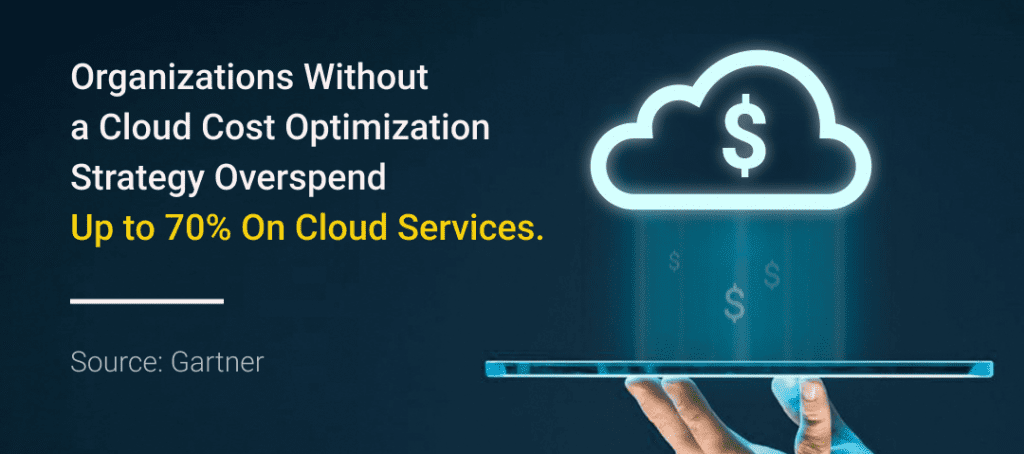 Cloud spending is increasing year by year, and so is cloud waste. It is vital to have proper insights into cloud economy as it will help to mitigate issues such as an unexpected spike in costs, overspending on unnecessary resources, inadequate performance, etc. Some of the major factors that contribute to cloud costs include memory, storage, network traffic, web services, software licenses, training & support, etc. A comprehensive cloud cost management provider will be capable of taking all these factors into account.
Cloud cost management vs. cloud cost reduction
Are these two terms synonymous? When we compare the results, both are actually different. Cost optimization is a growth-based strategy focused both on managing costs and maximizing value. Whereas cost reduction is primarily targeted to drive down costs and might lead to low productivity and reduced business value. Another major difference is that cost management is a continuous process of optimizing cloud spend but cost reduction is a one-time action that results in immediate results. Now that you know the difference, what is your organization's strategy – cost optimization or cost-cutting?
Why do companies fail to implement effective cloud cost management strategies?
These days, though organizations understand the relevance of cloud cost management, they fail to strategize due to some reasons. Let's explore some of the top cloud cost management challenges here.
Held up with an old mindset: Enterprises are not ready to change their mindset and end up paying more than they actually utilize. This is because they tend to over-provision the resources, as they treat cloud as their traditional on-premises setup.
Lack of proper understanding of pay-per-use: Cloud is known for its scalability and hence enterprises should understand the flexibility it provides to us. Cloud service providers charge pay-per-use and hence enterprises should design their strategy in such a way that they can leverage the cloud resources completely.
Low visibility: Poor visibility is a hurdle to achieving higher revenue and efficiency. Annually, over 35% of cloud spending is wasted due to wrong instance size, over-provisioning, lack of usage monitoring, etc.
Absence of governance model: A proper governance policy is essential to ensure better resource utilization, avoid any unexpected charges, and enable higher efficiency.
Not enough data cleanups: Enterprises are advised to have regular data cleanups if they want their cloud resources to be efficient and to avoid additional power and cost.

Top ways enterprises can optimize their cloud costs
As cloud costs are constantly shifting, implementing a cloud cost management strategy can help enterprises to map future consumption, and improve the performance and efficiency of cloud resources. For organizations that use a hybrid cloud or multi-cloud platform, it is important to have hybrid cloud cost management that takes into account insights from all the different cloud providers. Some of the top ways businesses use cloud managed services for cloud cost management are:
Adopt a cloud cost optimization framework that helps to optimize resources, create visibility, and set up effective governance.
Use the right pricing and discounting model based on your requirement
Choose the right size of instances that will fit your organization's needs and avoiding over-provisioning
Identify unused resources, consolidate idle resources, and stop their utilization
Schedule time for scaling up or minimizing resources whenever needed instead of planning for maximum utilization at all times.
Analyze the usage of resources to understand the actual spend and also predict the future costs
Summing it up, enterprises should understand cloud economics and the right strategy to monitor their cloud spend. Striking a balance between cloud management and cost optimization is crucial in any organization's cloud adoption journey. However, figuring out various cost management ways can be exhausting and requires the proficiency of a reliable cloud managed services partner. Unlike a decentralized approach that results in cloud wastage, cloud cost optimization supports a collaborative work environment for both cloud governance teams and business units. You can partner with a cloud managed services provider depending on your business goals and the right assessment process.
Being a cloud-native company, SecureKloud offers end-to-end cloud management services ranging from cloud strategy, migration, infrastructure set-up, cloud security, disaster recovery & enterprise backup to cloud cost and asset management. Eager to know how we can assist your organization in optimizing your cloud costs? Contact us now!