About the Client
Our Client is a leading global medical technology and digital solutions innovator, with about 100+ years of experience in healthcare industry and around 50,000 employees working across the globe. They operate at the center of an ecosystem working toward precision health, digitizing healthcare, helping drive productivity and improve outcomes for patients, providers, health systems and researchers around the world. Our Client enable clinicians to make faster, more informed decisions through intelligent devices, data analytics, applications and services, supported by their own state-of-art intelligence platform.
Challenges faced by the Client
Our Client operates their cloud infrastructure globally in multiple regions and their cloud IT team receives cloud account provisioning requests from multiple teams across their organization.
The major challenge the client faced was to bring their new cloud accounts in sync with organization structure approval mechanism without compromising on HIPAA compliance, security principles, the client's governance standards and their IT cyber security rules.
Another challenge for the client was to unify cloud IT team, business and development teams' cloud experience that in turn would drive the organization-wide cloud adoption.
Client's business needs
The following were our client's needs:
Architect and design an automated account provision solution to provide cloud accounts and resources to their business and development teams
Implement continuous compliance and continuous security assessment using CloudOps automation
Enable compliance and governance reporting on provisioned accounts to a base set of CloudOps and SecOps policies
Support multiple cloud providers that includes Amazon Webservices and Microsoft Azure
The new cloud accounts created should also be enabled with HIPAA compliance, security principles, the client's governance standards and their IT cyber security rules
Why SecureKloud was chosen?
SecureKloud is an AWS Premier Consulting and NexGen Managed Services Partner with competencies in – Life Sciences, Healthcare, DevOps, Bigdata & Security and gold partnership with Micorsoft Azure. We have a deep expertise in handling Pharma and Healthcare giants across the globe and our specialization in providing continuous HIPAA compliance and security were the key reasons to choose us.
Solution offered to the Client
SecureKloud designed and engineered 'Cloud Embotics' a self-service account provision solution that will create secured and compliant cloud within a span of 2 hours. The solution described in the below design is for our client's cloud IT team to provide compliant cloud accounts for developing APIs, user interfaces, and products for the Healthcare industry. The services will also be leveraged by our client's customer onboarding process for end user organizations that need separate cloud accounts.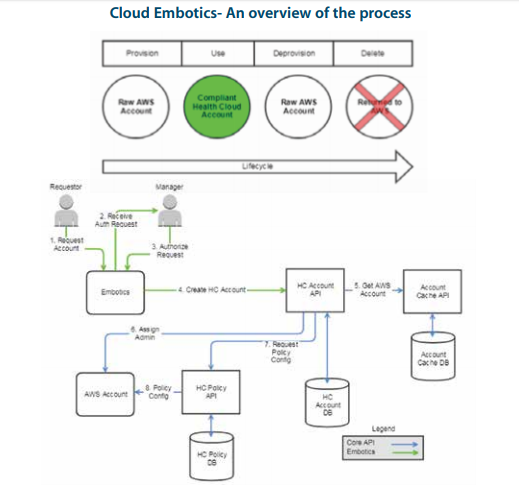 Business Benefits obtained by the Client
Our client's healthcare vertical cloud adoption was smooth and also accelerated the cloud migrations inside business and developments team
Within a span of 6 months, our client was able to successfully migrate 100+ critical systems
Achieved 100% healthcare regulatory requirements by embedding Cloud compliance and security policies into their cloud IT process
An average of 50% TCO has been reduced on the migrated enterprise applications
About SecureKloud