About the Client
Our Client is a big player in the Aviation industry for more than 45 years. Their breakthrough product was Unmanned Aircraft System(UAS) which is highly integrated and interoperable, which helps the law enforcement to see and assess the situation ahead. The Ground Support Equipment(GSE) is a notable solution which helps the ground vehicles to automatically charge and the electrical charging system tracks and sends the billing information to the customers as part of energy management in the industry. They are also well known for developing a series of lightweight human-powered and solar-powered vehicles. They are also the Pentagon's top supplier of small drones.
The Client's Business Needs:
The following were the major business needs:
The client wanted to create a web-based application for the Ground Support Equipment(GSE) with a complete Cloud Hosting
For the Electrical Charging System, they wanted an end to end service right from installation and complete maintenance of this electrical equipment
Also, for this Electrical Charging System product, they were looking for a self- sustainable launch business model with 40+% gross margins which may require a back office with multiple levels of price platforms for various feature sets
They wanted their current customers to purchase the upgrade for their existing product
Why was SecureKloud chosen?
The client was looking for a Cloud provider who could understand their intricate business challenges and come up with the customized Cloud model suitable for them. SecureKloud, born in the cloud, is an advanced and experienced, top cloud unique solution provider having handled around 400+ successful business engagements in the market. Also, SecureKloud has previously catered clients of same industry which was an advantage in the evaluation process and hence was able to come up with a tailor-fit web-based Cloud hosted solution.
Our Solution :
The solution we proposed was a web-based application with cloud architecture for the Electrical Charging System, on live energy tracking, features for successful energy management and complete Cloud hosting. It is also designed in such a way the real-time output can be accessed by our client and their end customers. It allows the end customers to track the energy consumption down to a vehicle level for billing purpose on their mobile application. Security and compliance are paramount features and this solution is a robust deployment automation in the cloud, which addresses the client challenges effectively.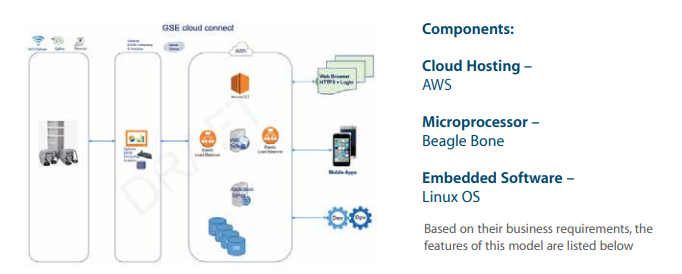 Features :
Cloud-based architecture for data gathering and storage
Wireless communication from chargers to cloud
Customer facing web portal for data reporting
Revenue grade energy metering per system
SMS and email alerts through the back office
Power management reporting and controls
Charger access control authentication
Wi-Fi/Ethernet/Bluetooth connectivity
The Basic UI screens of the web-based application will have the options for the following
Login
Current Charger Status
Energy Usage by Vehicle
User Management
Charger Management
Customer Management
Power Management and
My Account Management
Business Impact :
By leveraging this system, the client's environment became stable and easily accessible
This business model is sophisticated with the latest technologies and customer approachable for management
The sales improved notably, by reaching new customers and by addressing the existing customer needs
About SecureKloud

Client
Big player in the Aviation Industry
Sector
Aviation
Technology
AWS